Overview
Overview about PipeCD.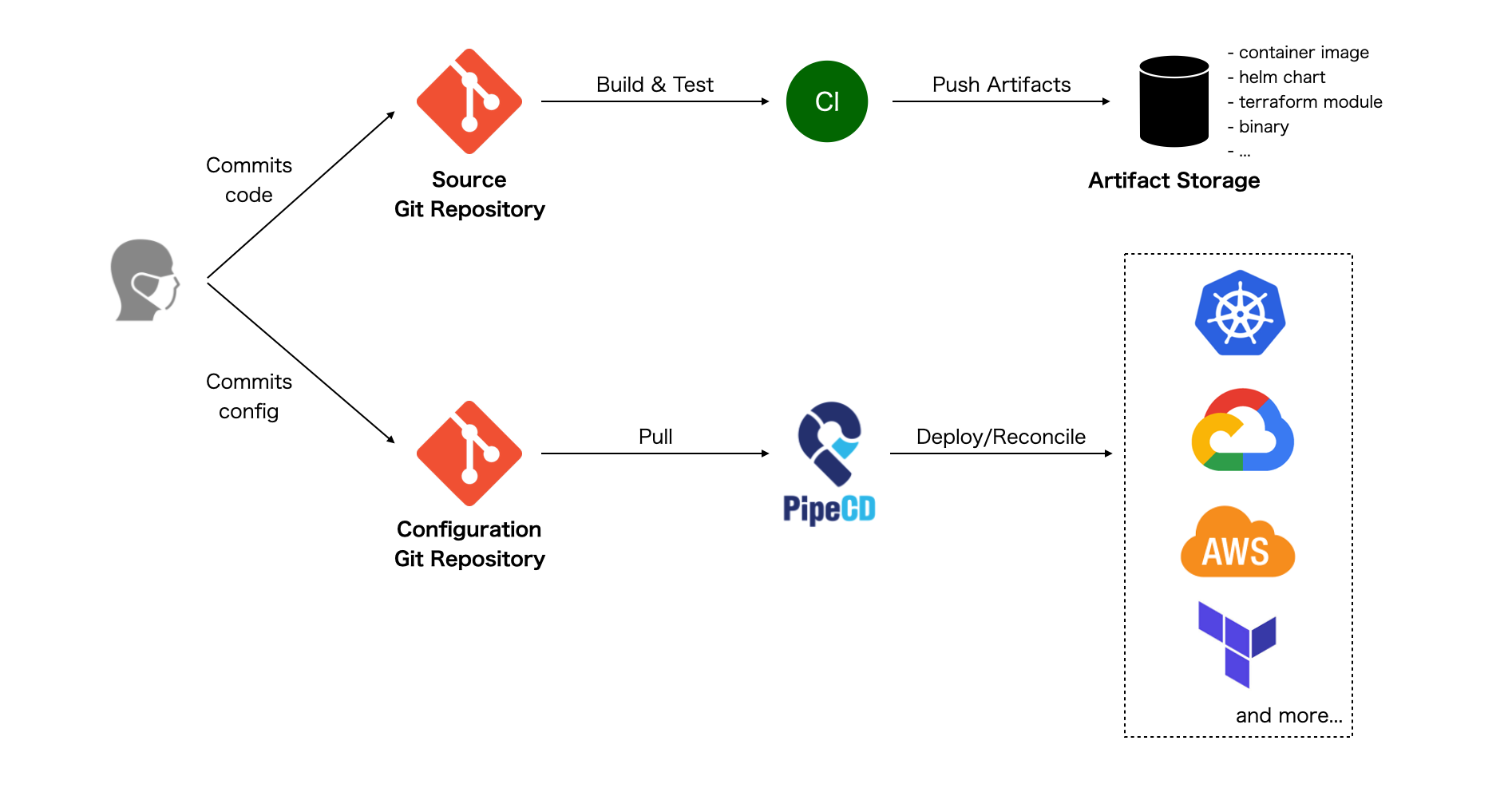 PipeCD - a Gitops style continuous delivery solution
What Is PipeCD?
PipeCD provides a unified continuous delivery solution for multiple application kinds on multi-cloud that empowers engineers to deploy faster with more confidence, a GitOps tool that enables doing deployment operations by pull request on Git.
Why PipeCD?
Visibility
Deployment pipeline UI shows clarify what is happening
Separate logs viewer for each individual deployment
Realtime visualization of application state
Deployment notifications to slack, webhook endpoints
Insights show metrics like lead time, deployment frequency, MTTR and change failure rate to measure delivery performance
Automation
Automated deployment analysis to measure deployment impact based on metrics, logs, emitted requests
Automatically roll back to the previous state as soon as analysis or a pipeline stage fails
Automatically detect configuration drift to notify and render the changes
Automatically trigger a new deployment when a defined event has occurred (e.g. container image pushed, helm chart published, etc)
Safety and Security
Support single sign-on and role-based access control
Credentials are not exposed outside the cluster and not saved in the Control Plane
Piped makes only outbound requests and can run inside a restricted network
Built-in secrets management
Multi-provider & Multi-Tenancy
Support multiple application kinds on multi-cloud including Kubernetes, Terraform, Cloud Run, AWS Lambda, Amazon ECS
Support multiple analysis providers including Prometheus, Datadog, Stackdriver, and more
Easy to operate multi-cluster, multi-tenancy by separating Control Plane and Piped
Open Source
Released as an Open Source project
Under APACHE 2.0 license, see LICENSE
Where should I go next?
For a good understanding of the PipeCD's components, see the Concepts page.
If you are an operator wanting to install and configure PipeCD for other developers.
If you are a user using PipeCD to deploy your application/infrastructure:
If you want to be a contributor: